It's a form of abuse to constantly tell someone things like "No one loves you," "everyone hates you," "you're so awful, no one would ever put up with you," etc. It's worse, of course, if the person saying these things is someone the abused trusts, loves, or looks up to, like a parent or spouse.
What happens when someone starts to believe these sorts of lies? If they think that other people hate them or would do horrible things to them when they actually don't? Would they come to believe that their abuser really was "they only one you can trust" and "just looking out for you"?
Every time something bad happens, they'd internalize it as yet another piece of evidence that the abuser is right: "Of course bad things happen to me–everyone hates me." They would be afraid of the world, unable to trust anyone. How would they even begin to realize that they've been lied to?
It would be pretty awful if people were going around with incorrect ideas about the rates of police violence against them, too.
How many unarmed people did the police kill last year?
This is the total police killings of unarmed people, of all races, over the past 5 years. Of course, some of the "armed" people really weren't, but we are still talking numbers similar to the number of people killed by bees and wasps each year:
As for race: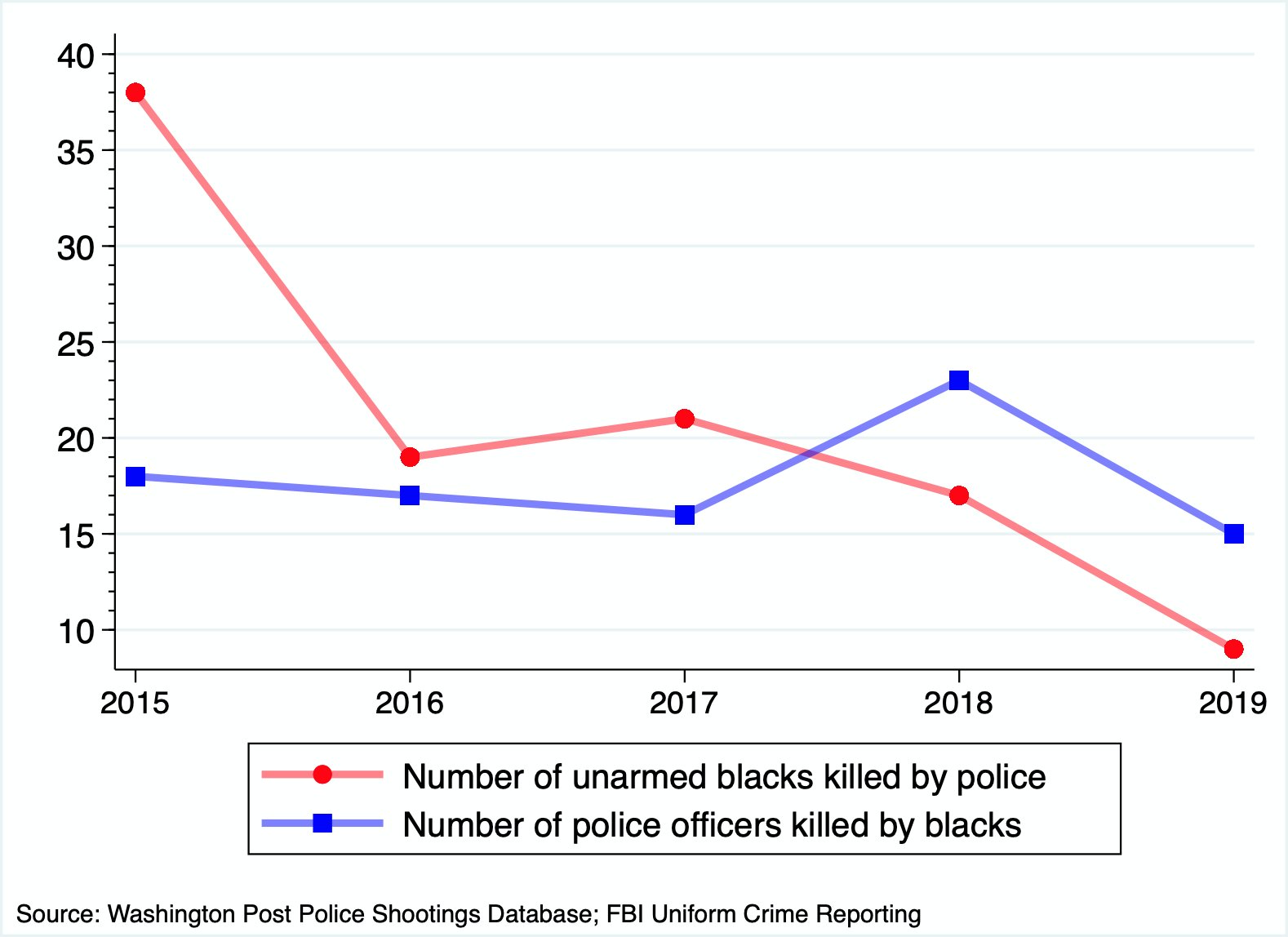 This Y-axis is seems like a case of deceptive truncation, but the total number of unarmed Africans killed by the police in 2019 was 9. This is on the same order of magnitude as "killed by lightning" and "drowned in a bucket" (don't worry, though, if you can read this, you're too old to fall into a bucket and drown.)
But suppose we zoom out and assume that all of the "armed" suspects shot by the police really weren't. This is obviously not true, but it constitutes a theoretical upper bound. The police killed about 240 black people total last year. By contrast, over 3,500 people drown each year; over 7,000 black people were murdered by non-police in 2018.
Oh, and these protests are now happening in the midst of a pandemic that has been killing over a thousand people per day. Any argument that police violence is a bigger concern than corona is statistically nuts.
I've noticed that, aside from the WAPO article, the exact number of unarmed people shot by the police was not easy to find. Most people want to talk about rates and percentages, rather than absolute numbers. This is understandable if you are trying to figure out if one group is more likely to get killed than another, but bad for figuring out how often something actually happens and whether or not you should be worried about it.
Look, I actually have a fair number of complaints about the police/judiciary/legal system, and there are reasonable arguments about excessive force, over criminalization, and bad prison conditions that I support.
But no one should be told that there is a giant conspiracy out there to kill them when there isn't.